Welcome to the website of Altarnun Parish Council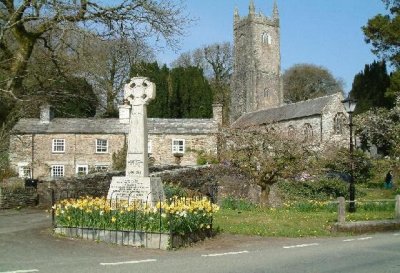 (St Nonnas - The Cathedral on the Moors)
The parish of Altarnun lies on the eastern side of Bodmin Moor, 8 miles from Launceston and covering 15,014 acres is the largest Parish in Cornwall. From the rugged landscape of Bodmin moor in the west of the parish, across to the unspoilt villages of Altarnun and Bolventor, which boasts the world renowned Jamaica Inn and to the picturesque farmland and rural hamlets in the east, the true diversity of rural Cornwall is reflected here. It has been inhabited since the Neolithic period and remains of this occupation and also that of the Bronze and Iron Ages can still be found. The Doomsday Book recorded seven settlements within the present parish boundaries.
We are proud of our rural environment and work with the community to protect, preserve, and continually improve it for the benefit of parishioners and visitors alike. Latterly our efforts have been aimed at: the provision of sufficient affordable housing for local people, road safety and traffic management concerns, the installation of a public access defibrilator and the replacement of the public conveniences in Altarnun Village centre, following the closure of the original facilities by Cornwall Council.
IMPORTANT MESSAGES
PLANNING: For recent planning applications and decisions being made during the Caronavirus pandemic please refer to our Planning page on this web site.
DOG WALKERS PLEASE NOTE: It is currently the lambing & calving season and the local farmers would very much appreciate that dog walkers keep their charges on the lead if in likely proximity of sheep & cattle. Thank you.

Altarnun Village

One of the prettiest villages in Cornwall lies in the valley of Penpont Water just off the A30 trunk road making it easy to commute west to Truro or east to Exeter and also with good links to Plymouth in the south.

Altarnun has retained its historic charm and character, something the Parish Council and residents work hard to keep up, including its picturesque packhorse bridge by the church, a variety of traditional cottages, the village hall which houses the local shop and post office and the church hall which supports many community and social events.
The stunning parish church of St Nonna is known as the Cathedral of the Moor. It was built largely in the 15th century in the Perpendicular style, with its bell tower standing 109 ft (33 m) high. It is notable for a fine Norman font and old woodwork, including the screen, bench-ends and communion rails which date to 1684. The screen is one of the finest 15th century examples in Cornwall; it has three gates and the cornice of vines and tracery and vaulting are intricately carved.
More modern evolvements are a thriving primary school and preschool, numerous sports and social clubs, for both the young and more mature and our twinning with Gueltas in Brittany, France.
Three notable public houses, at short distance, provide great food and accommodation – The Kings Head at Five Lanes, Rising Sun Inn at Higher Treween and Jamaica Inn at Bolventor.